Creativity is born from the Love of things that We do
— George S. Argyrakis
Our focus on Greek vinifera includes xinomavro, malagouzia and assyrtiko specifically selected for our microclimates.
We are maximizing the expression of our wines by practicing biodynamic viticulture in our most privileged vineyard sites. Hand harvest, traditional winemaking techniques, and maturation in French oak barriques are only a few of the factors that make our products special. In our estate, quality is not an act, it is a habit.
We love to see people happy and the wine is an artistic way to do it!
– OUR TEAM –
Bioclimatic design winery
Our winery is located on the slopes of Mount Vermiou, a mountain full of mysteries and myths. On its slopes, according to Herodotus, were the paradise gardens of the Phrygian king Midas. The winery is designed according to bioclimatic standards by Spiros Argyrakis, during his master's thesis on bioclimatic wineries. Its white color, for the reflection of sunlight, in combination with the right orientation and strong insu-lation, reduces to a minimum the energy requirements in order to maintain a constant temperature of 16 °C, all year round. In addition, the use of photovoltaic panels ensures the energy autonomy of the winery, thus zeroing our energy footprint. Our winery is the proof of our greatest principle; our respect for the environment.
Our Vineyards
Our vineyards are located on the Mount Vermion, at altitudes between 550m and 600m. Located on the sun-flooded southeast-facing slopes of the mountain, our carefully designed vineyards represent the essence of the region and embody it in the form of wine.
The marriage of noble grape varieties and a limestone clay terrain provides nuances of aroma and flavours. Naoussa's climate is continental: sufficient rainduring the winter helps to reconstitute the stocks of water in the ground while the lack of rain during the summer ensures the dry conditionsthat are favorable to the vines. The high diurnal range during the grape ripening period, especially in the summer when days are hot and nights are cool, enriches our wines and gives them a unique complexity.
The vines are linear, developed at double lanyard and allow for short pruning. Driven by our passion to explore every unexplored terrain of wine-making, we converted a stretch of our land to an experimental biodynamic vineyard which is among the very few in the country.
Archaic Greek horse statue
As horses were linked with both gods and heroes, religious people commonly presented horse votives to the gods as offerings.
The name
Every bottle that has the label "Argyrakis" is unique… because to us quality is not an act, it is certainly a habit.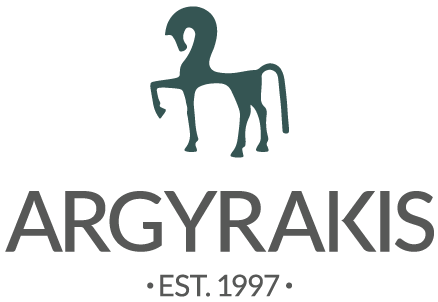 Our horses
The story begins at Smyrna, where our famous estate combined the family passions for horses and winemaking.
The date
In 1997 our great adventure began. It was the year George Argyrakis decided to create his own masterpiece.